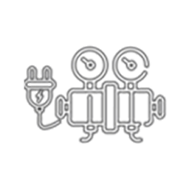 Electrical
Service Solution
We have expertise in the full suite of Electrical and Instrumentation (E & I) installation services with certification in Class "A" Electrical Contractor by the Energy Commission (Suruhanjaya Tenaga Malaysia). We covered end to end service provision that includes design, supply, delivery, installation, testing and commissioning of Medium Voltage Electrical systems and Low Voltage Electrical System supporting both industrial and commercial sectors. Our capabilities involve:
Electrical Services up to 33kV
Our professional experience is an end to end service provision that includes supply, delivery, installation, testing and commissioning of electrical systems (Medium & Low Voltage) for a full range of industrial, commercial and residential sector. Complying with the most current legislative requirements and industry standards, we ensure our service provision is consistently safe and reliable. 
Medium Voltage Electrical Systems 
Switchgear

 

Transformer

 

Medium Voltage Cabling

 

Testing & Commissioning

 
Low Voltage (LV) Electrical System
Electrical Power Distribution Panel (MCC, MSB, DB, Starter Panel, VSD)
Cable Support System – Ladder, Tray & Trunking
LV Cabling
Generator Set
Busbar Trunking System
Power and Lighting System
Lightning Protection & Earthing System
Explosion Proof Product
Power Factor Correction
Protective Relaying and Calibration
UPS System
Our key capabilities and scope of professional services include the supply and installation of:
All Field Instruments, Control Valve & equipment;
Instrument Cabling, Signal & Control Cabling;
Tubing & Fitting for process line and impulse line;
Gas analyzing panel and sampling line;
SCADA & Control Panel Design and Fabrication.