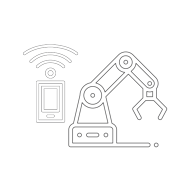 Industry 4.0 & Digitalization Solutions
IoT & Industry 4.0 digital transformation in Malaysia
In PC Group, we transform business processes and people with operations consulting, Smart process control design, development & implementation, and SMART manufacturing technology towards operational excellence.
We leverage our in-depth process control knowledge in creating value-added solutions. We devise a plan that puts IIoT at the heart of your digital transformation journey with a team focus on the creative and collaborative workspaces. Our unmatched combination of experienced skills people, mature project management methodology, and technological expertise ensures Digitalization Transformation projects generate a return on investment for optimized plant performance and increased cost savings.
Consultation & Digital Transformation Roadmap
We define and formulate a Digital Transformation strategy by analyzing your business processes to identify how information can unleash the data in your plant/facility to unlock the hidden potential for better visibility, performance, and profitability through detailed transformation planning via; 
Assessment for 'Factories of the Future'
Project Strategies & Roadmap Consultation
Platform Selection
Architecture Design
Technology Evaluation & Selection
Enterprise & plant floor systems interoperability assessments and baselining
Unified Operations Centre (UOC)
PC group of companies Unified Operations Centre Solution can help you to integrate all your plant productions facility with the ability to provide a 360-degree view of your plant performances.
UOC leveraging the critical data-driven in real-time operational performance management for a smarter decision to maximize return on capital & improve the profitability of your company.
UOC empowers the manufacturing sector with a centralized view to help make an informed decision with end to end operational visibility across your facilities. It allowed plugin and with an integrated application, data analytics, GIS maps, ERP system, and more. Thus helping you to sustain, and continue with business intelligence in one centralized platform.
Intelligence Energy Management
Our Energy Intelligence dashboard provides an overview of all your plants to monitor Energy KPI in real-time. We integrate all of your sites that producing energy from multiple sources by improving the visibility of energy consumption and costs, all within a single dashboard, 
By using the Energy Intelligence Dashboard for your plant facility, you can now harness the power of data analysis and gain valuable insights that lead to better-informed decisions.
Energy consumption in relation to production

 

System centralization for management or operation dashboard

 

Energy consumption real-time analytics

 

Advanced data analytics as above

 

Real-Time Monitoring & Control

 

End to end 

IIoT

 solution

 

Interactive reports enabling drill-down analysis to identify area of improvement

 
Manufacturing Execution System (MES)
In accelerating the digital transformation journey, MES solution is to facilitate the integration of plant floor systems with engineering and business systems, allows a streamlining of business processes that span across the organization. It helps to reduce production costs by increasing throughput and providing higher quality products. MES provides the ability to understand and manage the complexities of the modern manufacturing process.
Manufacturing Execution System can offer a complete set of functions that can be scaled to individual business needs or incrementally implemented for a faster return on investment and alignment with business priorities such as;
Production Management
Inventory Operations Management
Track & Trace
Overall Equipment Effectiveness (OEE) KPIs
Quality Operations
Bill of Material & Recipe Management
Digital Workflow Management
Empowerment & Mobility
Tank Farm Operations Management System (TOMS) is an integrated solution that simplifies tank farm and terminal operation and control systems. It enables all tank farm and loading bay processes to be managed and automated with maximum consistency and according to ISA 95 standards. 
Inventory Management

Data Analysis and Information Management

 

High

–

Performance Operation Management Interface (OMI)

 

Situation Awareness Alarm Management

 

Data Integration with SCADA / PLC / DCS

 

Device Integration with field instruments / 

IIoT

 devices

 

Enterprise link to business

–

level such as 

Enterprise resource planning

 (

ERP

) 

/ P

roduct Lifecycle Management(P

LM

)

 / 

Supply Chain Management (

SCM

)

 
In today's most organizations, data are trapped in various department solutions deployed over the years, with a large amount of data are generating by people, devices, and systems every day. If you have a complete toolset for crafting industrial big data to information assets, you can discover the trapped value within your organization. With an effective management solution, it can combine with business intelligence to deliver powerful operational insight.   
With Advanced Data Analytics solution, PC Group of companies provide a comprehensive set of an operations management application for industrial manufacturing plants to align production and operations with business objectives. It helps to focus on measuring equipment performance KPIs, sustain standardization, reduce costs, safeguard quality, simplify enterprise integration continuous improvement in plant and multi-site manufacturing operations.
Cloud Computing is the game-changer driving in to bring more speed, scale, insights, and accuracy to manufacturing operations. Its applications will impact virtually every aspect of today modern manufacturing companies. To offer the unparalleled potential for improving business performance to our customers, we develop an integrated cloud platform to empowers the manufacturing plant process operation and maintenance lifecycle, where it will help manufacturers to manage their business with better intelligence.  
This is made possible through the availability of advanced data analytics to provide critical information about your plant floor on a real-time basis through a cloud-based IoT platform, thus enabling accurate and much faster decision making.  
Real-time tracking and traceability at your fingertips
Manufacturers are facing huge challenges in integrating all their production locations in real-time, as the supply chain visibility becoming more critical in tracking the data. Our cloud-based solution can help you to integrate all your plant floor and have greater visibility of your plant process.  
Insights into overall equipment effectiveness (OEE) get stronger 
Cloud computing enables a manufacturer to gain insights into their machinery & equipment in real-time, where you can track and analyze the health of your systems, thus improve the efficiency and avoiding unnecessary costs. 
Quality is no longer siloed
The Manufacturing company today is now able to gain greater value when a cloud-based solution is used to track, analyze, and report the product quality where it is possible to be synchronized all locations with real-time data.  
Manufacturing cycle times are accelerated
With Cloud Computing, there is a better insight level into how cycle times can be improved, which allowed a manufacturer to be more competitive in achieving real-time visibility, supply chain integration, and increase operational flexibility. 
Proactive Asset Performance Management with IIoT and Analytics
APM 4.0 is an evolutionary shift to align with Industry 4.0. IIoT with advanced data analytics offers new opportunities to improve the reliability of industrial assets, enabling an organization to progress toward no unplanned downtime, which consider being the ultimate aim for the maintenance and operations team. 
PC group of companies APM 4.0 solution allows you to capture and analyze historical and real-time operational and asset data to improve asset performance, reduce costs, and facilitate mission–critical decision making in core business operations. With APM 4.0, you can develop consistently, optimized inspection and maintenance plan to mitigate operating risks and improve overall reliability, efficiency, and availability.
Industrial Cyber Security
How do your organization ensuring uninterrupted industrial processes? Targeted cyberattacks can enter your systems without a trace, affecting your processes, registries, libraries, and system memory, with disastrous consequences.
PC group of companies Industrial Control System (ICS) solutions provides effective cybersecurity that safeguards IT/OT systems from such attacks. Our cybersecurity solutions address three key areas: Process, People, and Technology consists of:
Risk Management

 

Cybersecurity Assessment

 

Configuration Assessment

 

System Hardening

 

Incident Response

s

 

Cybersecurity Awareness Training 

 
These in-depth defence solutions provide the Critical Information Infrastructure (CII) owner with cybersecurity identification, protection, detection and response solutions. Your organization is protected against such attacks, which may not be easily detected by traditional security solutions.