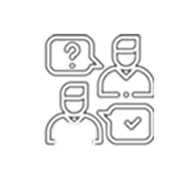 We are ISO 9001:2019 (2015) certified and specialized involved maintenance in Process Control Instrumentation, Valves, Analyzer, Instrument Servicing & Calibration and on-site and in-house valve servicing inclusive of re-conditioning, replacement of parts, testing & calibration.
We offer a team of personnel suitably qualified to manage, engineer and support the proposed system / project throughout its life-cycle. Support can be provided 24 hours, 365 days a year on a contractual basis. Although the prime function is to maintain and support the proposed control and safety systems, the scope of service can be extended to the analysis of operational data, incentives for improved safety and efficiency, design and technical consultancy as well as quality initiatives.
We are registered on Kementerian Perdagangan Dalam Negeri dan Hal Ehwal Pengguna as an only authorized service partner in Malaysia for Tanker Management and Custody Transfer. Our SIRIM is tracible to NML (National Metallurgical Laboratory) SIRIM and the authorized as a service partner to provide calibrations, service work on measuring system and components which belong to the measuring system from company Flow Instruments & Engineering GmbH on:
Flow Measuring System Types 

 

 

Flowcom

 2000 and 

Flowcom

 3000 for liquif

y

 O2, N2, LAR, CO2, N2O, 

Propan

e

 / 

Butan

e

 and LNG (

Methan

e

)
Our pressure calibration ranging from the vacuum as low of 0.1Bar A and gauge pressure to 700 barG. We use temperature calibration utilizing meteorology well and dry block technology to ensure delivery 35'c and capped at 600'c. Loop calibrator as we possess the latest equipment for varies communication protocol as HART, Brain or PDA. Well, other capabilities calibration includes:  
Current to 

the 

Pressure transmitter

 

Alarm units

/

isolator units

 

Pressure switches

/

transducers

 

Controller / indicators

 

Load cell

/

weight balancer

 

Recorders

 

Level measurement (continuous and point)

 

Flow transmitter

 
Our well-trained team provide a total analytical solution for Central Fueling Management of technical gases, loading facilities on tank truck, calibration service, and railroad tank car loading for liquefied industrial gases by carrying out on–site support of commissioning, start-up, troubleshooting and maintenance for the environment.
Our qualified team have the experience in providing Valve Maintenance on Plant control system and plant instrumentations. 
We are looking for customers who are keen to shift their focus to the management of their core competencies while developing partnerships with key specialist service providers like us. Whether it is getting it right from the start, solving an urgent problem or meeting a looming deadline, by outsourcing your engineering needs you are able to: 
Reduce and control your operating cost, 

 

Focus on core competencies, 

 

Establish a close working relationship resulting in more efficient project delivery; and 

 

Align your interests with us by sharing in risks and rewards 

 
We are committed to delivering peace of mind and confidence to our clients by outsourcing their engineering needs and making us an instrumental part of your engineering team. We are committed to embracing your projects with the same enthusiasm, commitment and care that you do. 
Our valve team carry out field on-site service and in-house valve servicing for the various brand valve in the market inclusive of overhaul valves & actuator, positioner re-conditioning, replacement of parts, testing & calibration. 
Valued service for valve inspection as an improvement for: 
Customer ROI by extending the valve life cycle

 

Uptime with fewer unexpected failure

 

Production   reliability   with 

a

 systematic maintenance program

 

The e

fficiency

 

with

 

better

 

maintenance planning