< Back
Certified Profinet Engineer
Congratulations to PC staffs for being a Certified Profinet Engineer to created qualified engineers with detailed technical knowledge of Profinet and the advantages to offer automation and production processes.  Certified Profinet Engineers providing industrial communication over Ethernet.
Profitnet is high speed , operating at 100Mbit/s or faster over copper or fiber – optic cables, real – time communication over ethernet and it is usable for motion control, safety, security , real – time I/O, vertical integration.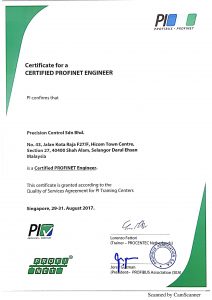 Once again Congratulations to PC engineers !