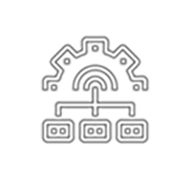 We have more than 35 years of experiences and capabilities in the engineering fields. As a leading solution provider in the field of Industrial Automation & Digital Transformation; we offer a range of products by employing cutting edge technology coupled with high-quality service in accordance with international standards.
Together with our Technology Partner, we dedicated to provide products consultation to our end users with the highest quality of service based on customers' budget, scenario and factory needs
Embracing Digital Transformation and investing into Industry 4.0 is one of the key goal and challenge that every organization is looking forward in this advancement technology era. It is about far more than the impact of technology. As most of organizations are largely still finding a path to balance the current operations with the advancement of technologies.
PC Group is leveraging our in-depth sector knowledge in creating value-added solutions by devising plans that put IIoT as the heart of our customers' digital transformation journey. Our IIoT products solutions are aiming to deliver IoT enhanced products with the specific need of your business and industry in mind.
Digital Transformation Solution includes:  
Beyond SCADA

 

Advance 

Data Analytics 

 

Proa

c

tive 

Asset Performance Management 

 

Manufacturing Operation Management 

 

Cybersecurity  

 

Business Process Workflow

 
Field measuring instruments and sensors are essential components of today's process control automation. We have the capability to study its customers' requirements and offer the latest state of the art instrumentation technology to improve process efficiency and reliability. Working with us, we make sure our customers increase profitability through higher efficiency and production capacity. 
Our customers will enjoy the benefit from our complete instrumentation package and reduce the resources acquired to manage multiple suppliers. 
Pressure, Temperature, Flow and Level Transmitters
Consistency Transmitters
Mass Flowmeters
Process Controllers, Recorders and Indicators
Weighing Systems, Belt Scales, Weigh Feeders
Sensor Transmitter
Thermocouples
RTD Sensors
Meter Indicators
Analytical Instrumentation
Offers a wide range of high–quality analyzers manufactured by Valmet, Teledyne, ATI and MSA. We offer turnkey solutions for complex, customized process monitoring applications. These analytical instruments are based on electrochemical and optical sensors, specializing in the areas of toxic gas detection and water quality measurements, continuing to lead the way in the development of reliable monitoring systems. 
Our capabilities in the area of sensor design and manufacture allow us to offer the kind of application support needed for the most demanding applications: 
Trace/Ultra Trace Oxygen Analyzers
Thermal Conductivity Analyzers
Trace Moisture Analyzers
Trace Total Hydrocarbons Analyzers
Combustion Efficiency Analyzers
Oil in Water Analyzer System
Total Sulphides Analyzer
Process Photometers (NDIR)
Gas Detector
PH Meter
LEL Detector
Fixed Gas & Flame Detector
Over the years, we supply a wide selection of valves include Metso, Jamesbury, Stafsjo, Conflow, Mack Valves and Komoto that meet the increasing demands for efficiency and quality. Our products are a complete flow control solution to ensure the best end-product quality and the lowest total cost of ownership on different requirements. The value package we provide features the latest valve technology which is manufactured internationally recognized standards and developed for optimum control performance and continuous online diagnostics and communication.  
These features ensure higher profitability by ensuring process reliability, availability and safety coupled with a lower cost of ownership. 
Control Valves
Tight Shut Off valves
Valve Guard
Smart Positioner
Butterfly Valve
Control Globe Valve
Soft Seated Ball Valve
Manual Globe & Ball Valve
Special Service valves for Chlorine, Oxygen, Vacuum and cryogenic
Flanged and Threaded Ball Valves
High Performance Butterfly Valves
Knife Gate Valves
Special Service Valves
Metal Seated and Soft Seated Valves
Cryogenic Valves
Over 20 years in delivering SCADA System, we have extensive experience in designing and implementing systems with components from multiple sources. Our system designs are compatible with most of the web browsers and mobile devices. It's this high level of versatility that makes our turnkey solutions possible. With dedicated streamlined functionalities and connectivity to complementary the hardware and software offerings, our Scada System able to delivers on the promise of a powerful, intuitive real-time monitoring solution.
With our system designed with flexibility and scalability, it is widely used in Power & Utilities ranging from the Water & Wastewater, Gas Pipeline Sector; Infrastructure such as Airports; General Manufacturing. We understand the challenges, including the difficulty in procuring the resources and help you need.
Telemetry & Communication
Today Smart Manufacturing sector needs equipment that is capable to deliver the highest yield of output with the lowest production costs. Communication has become one of the elements in Industrial automation processes worldwide with the growth in industrial computing driven by the need to improve productivity and to stay competitive in the changing market of Industry 4.0. We are Telemetry & Communication expertise provide Industrial Gateway, Industrial Modem / Routers and Industrial Computing.
We have experience across a broad industry and able to evaluate your application to determine which PLC / RTU provide the best overall solutions. We have a team of experts on PLC & RTU control panel design, programming, commissioning and support. Our approach also reduces the costs associated with future support and expansion with high level of advanced technologies and redundancy for mission-critical applications.
Biometrics Access Control Identification
It is a biometric global solution with Live & Fake Fingerprint Detection Technology, Access Control Solution and Time & Attendance. This technology provides advanced control system for high security and customization accordingly to our customer challenges comprise of Logistic Management, Vendor Management, Workforce Optimization, Staff Force Optimization, and Property Management. It is mainly suitable for HR and IT Department, from various industries (manufacturing, hospitality, chain store, etc.).
We also provide consultation to our customers with our experience in-house engineers to cater to any technical integration with various software. The fingerprint identification system can connect in between regional, time and attendance. With the technology, your company can expect to have:
Effective control of visitors by time and place
Protection of confidential documents and assets by authority management
Saving management expenses by a computerized automatic system
Improved internal and external images by an automatic work process
Increasing work efficiency by integrated management of automated payroll and human resource